Stay up to date with your COVID-19 vaccines
COVID-19 vaccines are effective at protecting you from serious illness. People who are up to date with their vaccines are optimally protected against COVID-19. Text your ZIP code to 438829 or call the Alaska Vaccine hotline at 907-646-3322.
Primary series
COVID-19 vaccines are recommended for everyone 5 years and older.
For most children 5 years through 17 years of age, a primary series consists of 2 doses of the Pfizer COVID-19 vaccine.
For most people 18 and older, a primary series consists of a 2-dose series of either the Pfizer or Moderna vaccine, or a single dose of the Johnson & Johnson vaccine.
Pfizer or Moderna (mRNA vaccines) are preferred. You may get the Johnson & Johnson vaccine in some situations.
Booster doses
Everyone 12 or older should get a COVID-19 vaccine booster if it's been five months since receiving the Pfizer or Moderna vaccines or two months since receiving the Johnson & Johnson vaccine.
Individuals 18 or older may choose which vaccine they receive as a booster dose: Moderna, Pfizer, or Johnson & Johnson. Individuals age 12-17 can receive a Pfizer booster only.
Additional doses for immunocompromised people
People who are immunocompromised are especially vulnerable to COVID-19. Individuals age 5 and older who are moderately or severely immunocompromised should get an additional primary shot 28 days after their second mRNA shot. They should get this dose before getting a booster shot.
Find a COVID-19 Vaccine Provider
COVID-19 vaccines are available at most pharmacies and provider offices in Alaska. Visit vaccines.gov to find convenient appointments or walk-in vaccine clinics near you, or browse our events calendar for special vaccine events.
Upcoming Vaccination Events
Please join your local community and the State of Alaska as we work together to roll up our sleeves and put the pandemic behind us:
Why are Alaskans getting vaccinated?
COVID-19 vaccine text-line
Text your ZIP code to 438829 or call 1-800-232-0233 to find vaccine locations near you in the United States.
Help for people with disabilities
The Disability Information and Access Line (DIAL) is now available to help people with disabilities get vaccinated.
Call 888-677-1199 Monday-Friday from 5 a.m. to 4 p.m. or email DIAL@n4a.org. The DIAL's trained staff is standing by to:
Help find local vaccination locations
Assist with making vaccination appointments
Connect callers to local services - such as accessible transportation - to overcome barriers to vaccination.
Request a copy of your immunization record
If you need a copy of your immunization record, including your COVID-19 vaccinations, please print out this Immunization Request Form (PDF) and mail or fax it to the Alaska Immunization VacTrAK program, which keeps track of the immunization records for Alaskans. Instructions on how to return the form are at the bottom of the form. Please include a copy of a supporting document that identifies the person requesting the immunization record.
Call for support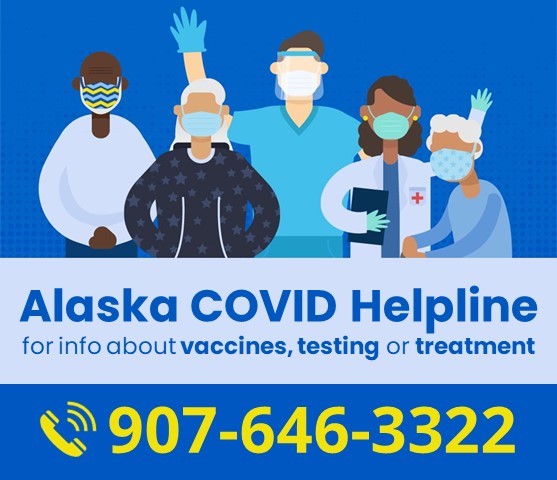 For help finding a COVID vaccine provider or making an appointment, you may also choose to:
Call the COVID helpline at 907-646-3322 for assistance. Hours are 9 a.m. - 6:30 p.m. on weekdays, and 9 a.m. - 4:30 p.m. on weekends.
The statewide toll-free number for the Aging & Disability Resource Centers has been updated to include an option #1 to select for help scheduling a COVID-19 vaccine. There are so far four full-time ADRC staff ready to help seniors who call and leave a message there. The info is 1-855-565-2017, option #1. Hours 8am-6pm.
Check with your local public health office, primary care provider, or local health authorities for more information.