DHSS School Health Information
The Alaska Department of Health and Social Services (DHSS) recognizes the importance of in-person learning for Alaska's students and supports the Department of Education and Early Development (DEED), schools, universities, and childcare programs, as well as students, families and staff, in the effort to return safely to classrooms and youth programs.
DHSS provides health guidance for schools based on evidence-based recommendations from Centers for Disease Control and Prevention (CDC) (updated July 9, 2021) and the American Academy of Pediatrics (AAP) and works closely with DEED to consult with school communities on COVID-19 prevention, mitigation, and response.
On this page:
Data Dashboard
CDC Guidance for COVID-19 Prevention in Schools
The CDC continues to recommend vaccination as the leading public health strategy to end the pandemic. Promoting vaccination can help schools safely return to in-person learning as well as extracurricular activities and sports.
July 27, 2021 update
Given new evidence on the B.1.617.2 (Delta) variant, CDC has updated the guidance for fully vaccinated people. CDC recommends universal indoor masking for all teachers, staff, students, and visitors to K-12 schools, regardless of vaccination status. Children should return to full-time in-person learning in the fall with layered prevention strategies in place.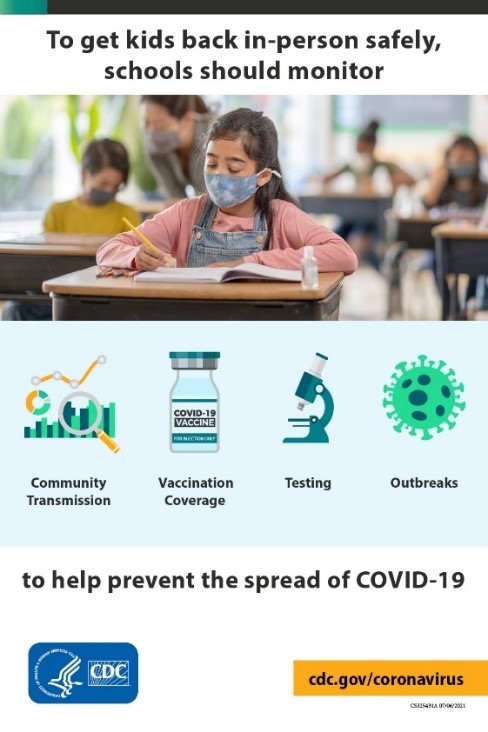 Key points of the CDC's K-12 guidance include:
CDC Guidance for Operating Early Childhood Care and Education/Child Care Programs
Key points of the
CDC's early care and education/ child care guidance
include:
Promoting vaccination among eligible individuals can help Early Care and Education programs protect staff and children in their care, as well as their families.
Most Early Care and Education programs serve children under the age of 5 who are not yet eligible for vaccination at this time. Therefore, this guidance emphasizes implementing layered COVID-19 prevention strategies (e.g., using multiple prevention strategies together) to protect children and adults who are not fully vaccinated.
COVID-19 prevention strategies remain critical to protect people, including children and staff, especially in areas of moderate-to-high community transmission levels.
Masks should be worn indoors by all individuals (ages 2 and older) who are not fully vaccinated. Early Care and Education settings may implement universal mask use in some situations, such as if they serve a population not yet eligible for vaccination or if they have increasing, substantial, or high COVID-19 transmission in their Early Care and Education program or community.
Localities should monitor community transmission, vaccination coverage, the occurrence of outbreaks, and local policies and regulations to guide decisions on the use of layered prevention strategies.
American Academy of Pediatrics COVID-19 Guidance for Safe Schools
Key points of the American Academy of Pediatrics' guidance include:
All eligible individuals should receive the COVID-19 vaccine.

It may become necessary for schools to collect COVID-19 vaccine information of staff and students and for schools to require COVID-19 vaccination for in-person learning.
Adequate and timely COVID-19 vaccination resources for the whole school community must be available and accessible.

All students older than 2 years and all school staff should wear face masks at school (unless medical or developmental conditions prohibit use). The American Academy of Pediatrics recommends universal masking in school at this time for the following reasons:

Some of the student population is not eligible for vaccination.
Protection of unvaccinated students from COVID-19 and to reduce transmission.
Potential difficulty in monitoring or enforcing mask policies for those who are not vaccinated; in the absence of schools being able to conduct this monitoring, universal masking is the best and most effective strategy to create consistent messages, expectations, enforcement, and compliance without the added burden of needing to monitor vaccination status.
Possibility of low vaccination uptake within the surrounding school community.
Continued concerns for variants that are more easily spread among children, adolescents, and adults.
COVID-19 Testing Information
All school districts have been allocated funds to cover the expenses associated with COVID-19 testing. These funds can be used to cover the costs if school staff performs testing and analysis, or to contract those activities with local health partners or labs. For more information, contact schoolhealthandsafety@alaska.gov.
Any district, school, community, facility or organization can request at-home test kits via the State of Alaska Emergency Operations Center using an ICS 213 RR-Resource Request Form (PDF). Please fill out the "quantity" and the "detailed item/need/capability description" boxes in the "requestor" section of the form and email to 2020_COVID-19@ak-prepared.com. Please include in the email a brief description of how the tests will be used to support schools providing in-person learning. For more information, download the at-home testing flyer (PDF) Over-the-Counter COVID-19 Antigen Tests for Schools (PDF) and at-home testing guidance (PDF).
For information about public testing for all Alaskans, please visit covid19.alaska.gov. To find a testing location near you, visit the State of Alaska testing site locator.
COVID-19 Vaccination Information
Schools, parent/teacher organizations, sporting organizations or other youth and family organizations can work with DHSS to request support for a COVID-19 vaccination event. DHSS also provides vaccine presentation by health care professionals to groups upon request. Please click on the links below to fill out a request form:
Required/Routine Childhood Immunizations

Bounce Back Alaska
DHSS is working with DEED, local schools and other community partners to promote youth and family back-to-school events that promote student health and resiliency including:
Sports physicals or well-child exams
Download resources to help host an event
DHSS Public Health Nursing has developed a Bounce Back AK event playbook to help communities plan Bounce Back Alaska events aimed at supporting youth health and resiliency, and a strong start to the school year. For more information about the campaign, please contact sarah.hargrave@alaska.gov or valerie.mccarney@alaska.gov.
For more resiliency resources for parents, educators, youth and families, please visit the Bounce Back Alaska resources webpage.
Sleeves Up for School
DHSS promotes vaccinations for Alaska's youth and families through the Sleeves Up for School campaign.
To customize graphics and flyers for your community, please contact glenn.harvey@alaska.gov. For State of Alaska assistance with promoting local events or to have public events added to the Sleeves Up Vaccine Events Calendar, please contact kate.robertson-bartel@alaska.gov.
You can find the events calendar and more information about COVID-19 vaccines at covidvax.alaska.gov.
Community Toolkit
Visit our Sleeves Up for School and Bounce Back Alaska Toolkit webpage to download campaign materials including logos, social media graphics and banners, template flyers and more:
Play Every Day
Play Every Day is a program with the Alaska Department of Health and Social Services to help Alaska children grow up at a healthy weight and encourage families to be physically active and choose healthy drinks. Play Every Day is supporting the Bounce Back Alaska campaign with information about the importance of physical activity and healthy nutrition.
Visit the campaign's Facebook page, Instagram page or YouTube channel.
PSAs
Additional Resources
School Health ECHO
The School Health ECHO is a virtual learning network intended for professionals in the education setting (administrators, school board members, educators, school nurses and staff) to interface with a team of medical and education experts in Alaska. This ECHO meets weekly, every Monday at 3:30pm:
DHSS Contacts
For the School Health and Safety Program within the Division of Public Health, contact Schoolhealthandsafety@alaska.gov and 907-269-3433.