DHSS School Health Information
Updated February 15, 2022
The Alaska Department of Health and Social Services (DHSS) recognizes the importance of in-person learning and school activities for Alaska's students while balancing the challenges of COVID-19, a highly infectious disease. DHSS supports the Department of Education and Early Development (DEED), schools, universities, and childcare programs, as well as students, families and staff, the continuing efforts to protect the health and safety of students and staff while offering effective learning environments for all students. return safely to classrooms and youth programs.
DHSS provides health guidance for schools based on evidence-based recommendations from Centers for Disease Control and Prevention (CDC) and the American Academy of Pediatrics (AAP) and works closely with DEED to consult with school communities on COVID-19 prevention, mitigation, and response.
On this page:
School Health ECHO
The School Health ECHO is a virtual learning network intended for professionals in the education setting (administrators, school board members, educators, school nurses and staff) to interface with a team of medical and education experts in Alaska. This ECHO meets weekly, every Monday at 3:30pm:
CDC Guidance for Schools, Child Care and Colleges
The CDC continues to recommend vaccination as the leading public health strategy to end the pandemic. Promoting vaccination can help schools safely return to in-person learning as well as extracurricular activities and sports.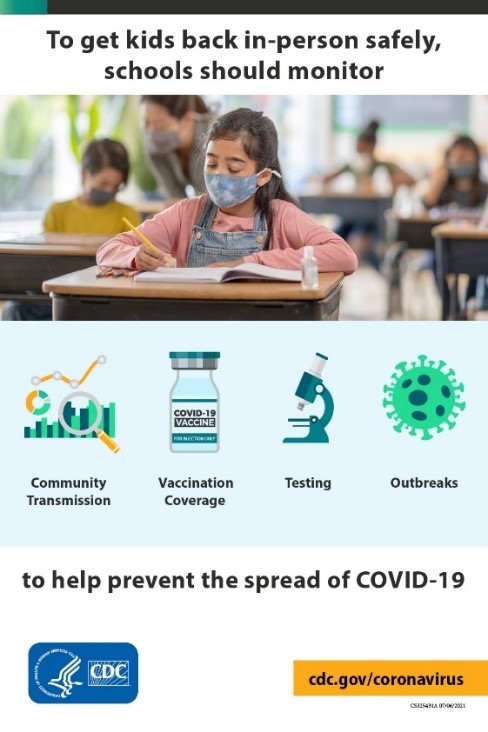 The CDC's Guidance for COVID-19 Prevention in K-12 Schools continues to recommend vaccination as the leading public health strategy to end the pandemic. Promoting vaccination can help schools safely return tomaintain in-person learning as well as extracurricular activities and sports.
The CDC's COVID-19 Guidance for Operating Early Care and Education/Child Care Programs takes into consideration that most early childhood education(ECE) programs serve children who are too young to be eligible for vaccination. The guidance emphasizes using multiple COVID-19 prevention strategies together to protect children and adults in ECE programs.
A key component of the CDC guidance is a layered approach dependent on local levels of community transmission. The CDC says schools should work with local public health officials, consistent with applicable laws and regulations, including those related to privacy, to determine the prevention strategies needed in their area by monitoring levels of community transmission (low, moderate, substantial, or high) and local vaccine coverage, and use of screening testing to detect cases in K-12 schools.
American Academy of Pediatrics COVID-19 Guidance for Safe Schools
The American Academy of Pediatrics' guidance states that "schools and school-supported programs are fundamental to child and adolescent development and well-being."
The AAP recommends that schools follow guidance outlined by the World Health Organization (WHO), United Nations Children's Fund (UNICEF), and Centers for Disease Control and Prevention (CDC) to decrease transmission of COVID-19.
The AAP states that temporary school closures may occur due to a school outbreak or community surge in COVID-19, noting that children cannot learn effectively if there are not enough healthy adults in the building to adequately supervise and teach them. Closures should be as brief as possible, and funding to support virtual learning and provide needed resources should continue to be available.
COVID-19 School Testing Information
All school districts have been allocated funds to cover the expenses associated with COVID-19 testing. These funds can be used to cover the costs if school staff performs testing and analysis, or to contract those activities with local health partners or labs. For more information, contact schoolhealthandsafety@alaska.gov.
At-Home Tests and Public Testing
Any school district, school or youth organization can request free at-home antigen COVID-19 test kits via DHSS at this online portal. First-time users can click on the "Sign Up" link at the bottom of the page to create a new account.
For more information, download the at-home testing flyer (PDF) Over-the-Counter COVID-19 Antigen Tests for Schools (PDF) and at-home testing guidance (PDF).
For information about public testing for all Alaskans, please visit covid19.alaska.gov. To find a testing location near you, visit the State of Alaska testing site locator.
COVID-19 Vaccination Information
DHSS provides vaccine presentations by health care professionals to groups upon request. Please click on the links below to fill out a request form:
Sleeves Up for School
DHSS provides information about COVID-19 vaccinees for Alaska's youth and families through the Sleeves Up for School campaign. For DHSS assistance with promoting local events or to have public events added to the Sleeves Up Vaccine Events Calendar, please contact kate.robertson-bartel@alaska.gov.
To order printed communications and event materials such as stickers or banners, please use our COVID-19 Communications order form. Email the completed form to covid19@thompsonpr.com.
Please share our Sleeves Up for Students public service announcements:
For questions about Sleeves up for Students, please contact elizabeth.manning@alaska.gov.
Bounce Back, Alaska
DHSS is working with DEED, local schools and other community partners to promote health and resiliency for Alaskans. Bounce Back offers resources for students and their families and for educators.
DHSS Public Health Nursing has also developed a Bounce Back AK event playbook to help communities plan Bounce Back Alaska events aimed at supporting youth health and resiliency. For more information about the playbook and campaign, please contact sarah.hargrave@alaska.gov or valerie.mccarney@alaska.gov.
Play Every Day
Play Every Day is a program with the Alaska Department of Health and Social Services to help Alaska children grow up at a healthy weight and encourage families to be physically active and choose healthy drinks. Play Every Day is supporting the Bounce Back Alaska campaign with information about the importance of physical activity and healthy nutrition.
Visit the campaign's Facebook page, Instagram page or YouTube channel.
Required/Routine Childhood Immunizations
Additional Resources
DHSS Contacts
For the School Health and Safety Program within the Division of Public Health, contact Schoolhealthandsafety@alaska.gov and 907-269-3433.