Resources for Health Care Professionals
Take the COVID-19/Flu Vaccine Messenger Survey


As you may know, the State of Alaska is in the planning stages in preparing for COVID-19 vaccine availability. We'd like to be prepared to collaborate with you better should vaccine(s) undergoing safety and efficacy trials be authorized by the FDA for distribution. We appreciate your participation.



Where to find the latest updates
Recent announcements
Letter to Alaska's Health Care Providers
September 10, 2021
Additional dose for immunocompromised (PDF)
August 18, 2021
ACIP Talking Points
August 17, 2021
Vaccination to Prevent COVID-19 Outbreaks with Current and Emergent Variants — United States, 2021
July 28, 2021
Summary of COVID-19 Vaccine Breakthrough Cases — Alaska, February 1 through March 31, 2021 (PDF)
April 28, 2021
Updated Healthcare Infection Prevention and Control Recommendations in Response to COVID-19 Vaccination
April 28, 2021
Interim Estimates of Vaccine Effectiveness of BNT162b2 and mRNA-1273 COVID-19 Vaccines in Preventing SARS-CoV-2 Infection Among Health Care Personnel, First Responders, and Other Essential and Frontline Workers — Eight U.S. Locations, December 2020–March 2021
March 29, 2021
Eight Cases of Multisystem Inflammatory Syndrome in Children (MIS-C) — Alaska, 2020 (PDF)
March 26, 2021

Evaluation of Public Health Emergency Orders and Reported COVID-19 Rates in the Municipality of Anchorage, Alaska, June –August, 2020 (PDF)
January 12, 2021
Pfizer-BioNTech COVID-19 Vaccine: Standing Orders for Administering Vaccine to Persons 16 Years of Age and Older (PDF)
December 17, 2020
Pfizer-BioNTech COVID-19 Vaccine: Emergency Use Authorization (EUA) letter for emergency use for individuals 16 years of age and older (PDF)
December 11, 2020

Clinical vaccine overview
Monoclonal Antibodies
Monoclonal antibody treatments for COVID-19 are available for patients 12 years of age and older if they are at risk for severe illness and hospitalization. Alaskans should talk to their health care provider or call the state COVID helpline at 907-646-3322 for more information and for help finding a provider near them who offers these infusions. The helpline provides language interpretation upon request.
Health Care Providers
In Alaska, health care providers must report confirmed cases of COVID-19 to the Section of Epidemiology; use the Alaska Infectious Disease Report Form.
Personal Protective Equipment (PPE)
Testing Guidance and Laboratories
Death Certificates
Volunteer
Alaska Respond is a network of trained and licensed health care professionals who volunteer to work across the state during a disaster or public health emergency:
Alaska Responders Relief Line – (844) 985-8275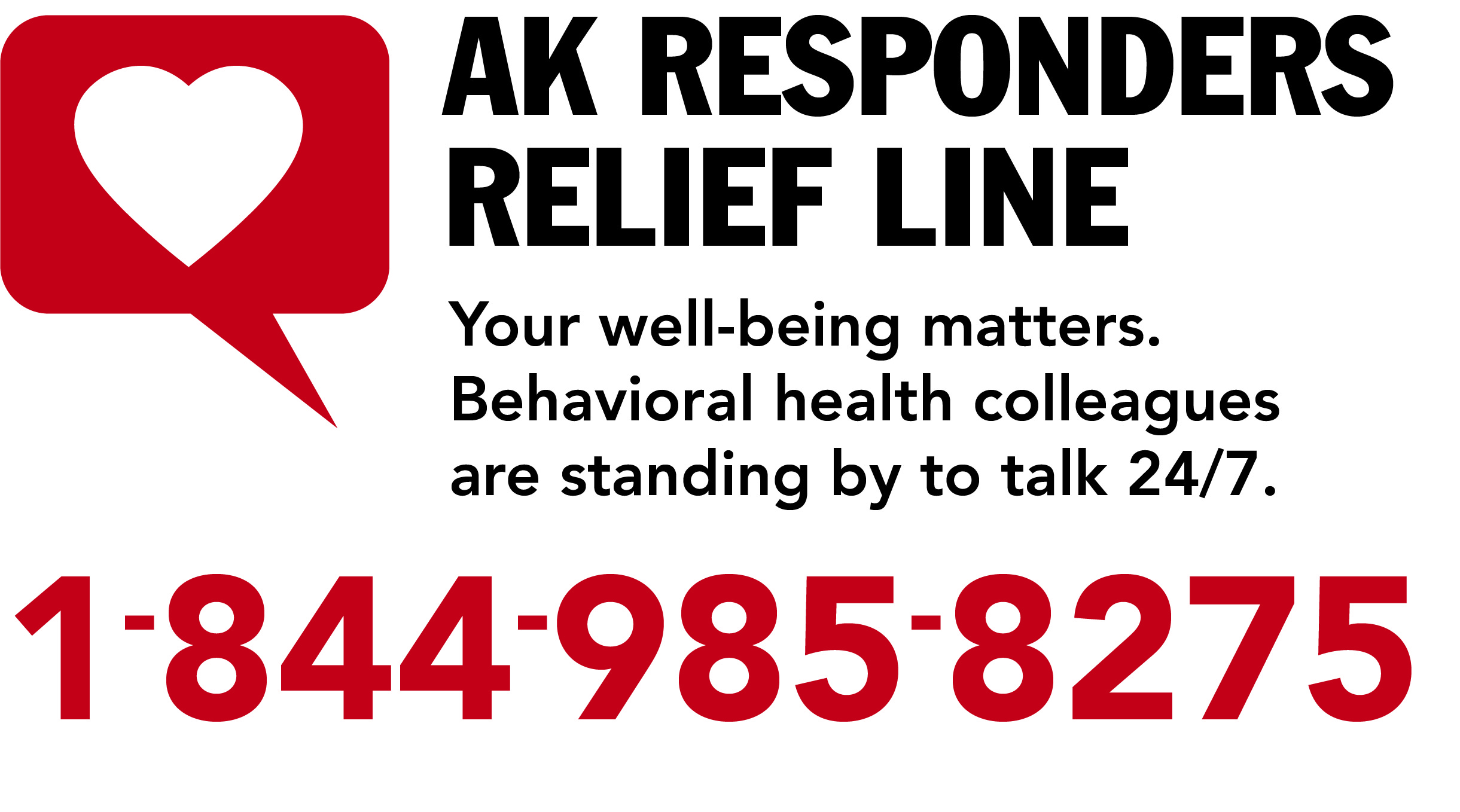 Recognizing the unique stressors that providers face, the Division of Behavioral Health has established a 24/7 support line, (844) 985-8275, for healthcare and behavioral professionals impacted by COVID personally and professionally. Staff supporting the call line recognize callers are often first responders and will allow callers to openly express their experiences and feelings serving Alaskans impacted by COVID. 
This service is also available to immediate family members of first responders who may be experiencing stress, anxiety and other hard to label emotions as a result of their loved one engaging on the front lines.
CDC Healthcare Professionals Resources